I cannot tell you how much I love my Archos AV500.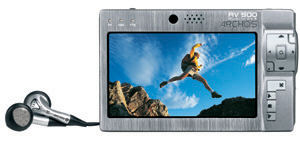 Oh alright then, I'll try.
This little beauty can record from TV and DVD onto its 100Gb hard disk, which means you can carry all your favourite movies, photos, and music with you wherever you go. It once again proved invaluable on my recent trip to the U.S., as the seatback video screens on my United flight from Heathrow to San Francisco weren't working, so while my fellow passengers had to go eleven hours with no video entertainment, I had all my favourite movies at my disposal (I watched Memento, followed by Rammstein Live in Nimes from the Volkerball DVD: superb!). Later in the flight I lent the Archos to the guy sitting next to me who was going mad with boredom, and he chuckled along to Nacho Libre for a couple of hours and was very grateful.
On the way home I flew bmi from London to Riyadh, on their old boneshaker of a plane. This one doesn't even have seatback screens, so we are forced to watch movies on 14" tellies mounted in the ceiling, just like a Wallace Arnold coach trip! This wouldn't be so bad if the fluorescent lights in the ceiling didn't reflect off the screens, making them almost unwatchable. Out came the Archos once more: this time it was Blade Runner, The Director's Cut, and Laurel & Hardy. The hours flew (sic) by!
I'm off again tonight, this time to UK for a holiday, and you can rest assured my trusty Archos will be in my carry on.
If you travel regularly and like movies, get one!